THE SOUND OF THE SWAMPS
The French band LE CLOU's musical roots lie deep in the South of the United States. The swamps and bayous (sluggish tributaries of the Mississippi Delta) are home to the Cajuns, descendants of French migrants who came to North America 200 years ago. Since then they've been living in isolated settlements West of New Orleans, proudly maintaining their own special way of life, culture and language, Cajuns love having a good time and down in Louisiana you can hear the stomping sound of their music pulsating from dance halls and barns.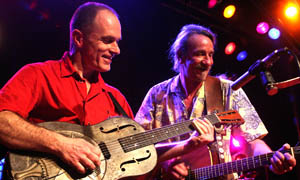 LE CLOU's "Cajun Swamp Groove" is a powerful brew of Cajun Music, Zydeco, creole grooves and southern states rhythm & blues… together with a strong dose of French spice.
SOUTHERN STATES – HUMID HEAT AND GENTLE SPIRIT
Baptized in the waters of the Mississippi, this cult Cajun band has been on the road continuously for more than 30 years. The musical soul of LE CLOU is the trio David-Epremian-Gueit. These three musical musketeers conjure up a magical variety of southern sounds. "We love playing live and that's given our music more dynamics and stronger rhythms, making people want to tap their feet and dance", says the band's charismatic charmer, Michel David from Paris whose smoky singing style quickly gets into the hearts of the fans. Yves Gueit is the steady anchor in the band, stirring up the atmosphere with his Cajun accordion while the joker, Johannes Epremian, skips lightly over the strings of his fiddle. These three completely differing personalities somehow weld together into a fascinating, totally homogeneous unity and their obvious natural enthusiasm is highly catching.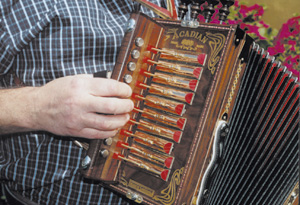 While the accordion and fiddle lend wings to the smoky vocals, drums and bass pump up the rhythm of the songs from below and slide guitar and saxophone effortlessly inject the real deep South feeling. The band on stage is up and cooking, setting the room alight with musical fireworks.
LAISSEZ LES BONS TEMPS ROULER ("Let the good times roll")
LE CLOU was founded in 1976. They quickly established themselves on the European concert and festival scene as Cajun Music pioneers and their breakthrough came in 1983 when they played live for 400 million viewers in the Eurovision TV show "Songs, Rhythms and Melodies".Le Clou has presented ist very own CAJUN SWAMP GROOVE in numerous TV and radio shows. They even got into the charts with their own instrumental "Le Printemps Cadien", were twice awarded "The German Record Critics' Prize" and have received numerous awards throughout Europe.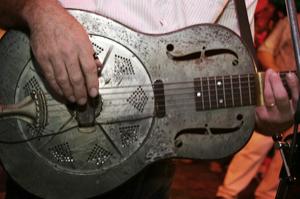 LE CLOU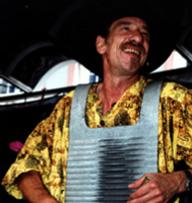 MICHEL DAVID
vocals, guitar, fiddle, frottoir
When I was six years old I decided to punish the fiddle and my voicebox instead of the poor piano. I tried and tried to teach them "Ave Maria" and Schubert's "The Trout" until I was fourteen. I spent my teens in Paris where I used my mother's hatboxes for drums and listened to The Shadows all day long; my love for music was never greater than at that time. Drumming finally gave me the chance to play with a few big names on stage and opened the door to my life as a musician.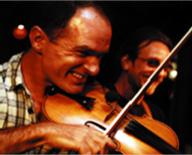 JOHANNES EPREMIAN
vocals, fiddle, guitar, dobro, electric guitar
I was born in Freiburg, a beautiful town in the Black Forest. My father is Armenian and comes from Cairo/Egypt and my mother is German. When I was a child, my identity card carried the words "nationality undefined". Both my parents are classical musicians and they were my first musical influences. We kids would talk to Dad in French and to Mom in German. From the age of four I took classical violin lessons and it was much later that I realised I could read and even write music before I could read normal writing. I found my second instrument, the guitar, when I was fifteen and I loved English guitar players like Bert Jansch or John Renbourn as well as the American slide virtuosos David Lindley and Ry Cooder. I spent two wonderful years "training" to be a pro-musician, on the stage and in studios, with the English singer/songwriter Ray Austin and then my love for the Cajun music and culture of Louisiana took over and has, for many years, been the heart of my work as a musician. I travel, as often as possible, to the Mississippi where I meet friends to play music with and to learn as much as I can.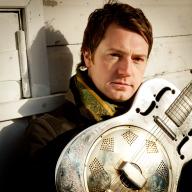 YVES GUEIT
vocals, cajun-accordion, flutes, saxophone, clarinet
Music came into my life when I was six years old when my parents registered me for school I asked them to get me into the Toulon School of Music. My grandmother, who played the violin, helped me develope an ear for the finer points of music and today her old violin has a special place of honor in our home. Thanks to my love for wind instruments I got into playing the clarinet and then I taught myself the saxophone and flute. It was these two instruments that got me into folk and blues at the start of the seventies. 1971 was the decisive year for LE CLOU: that's when I met Michel David and we laid the foundation stone for the Band.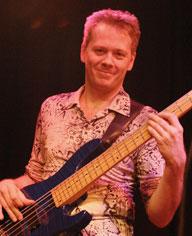 GERO GELLERT
basse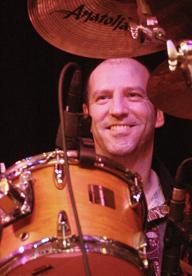 RALPH SCHLÄGER
drums